Skip to Content
Battery Repair Services in San Antonio, TX
Battery Replacement Services
Your car's battery is vital to its operation. It helps start your vehicle, charges itself, and runs your electronics inside. It's also the only source of power when you turn the electronics on in your car without starting your engine. It is in charge of keeping your car functional, constantly using, and recharging. All of this work eventually wears down on the life of the battery. As such, it's important to make sure you take care of your battery and replace it when you need to. AAMCO of San Antonio North provides professional battery services for drivers throughout San Antonio. Contact us today to schedule your appointment.
Inspections, Battery Tests, and Maintenance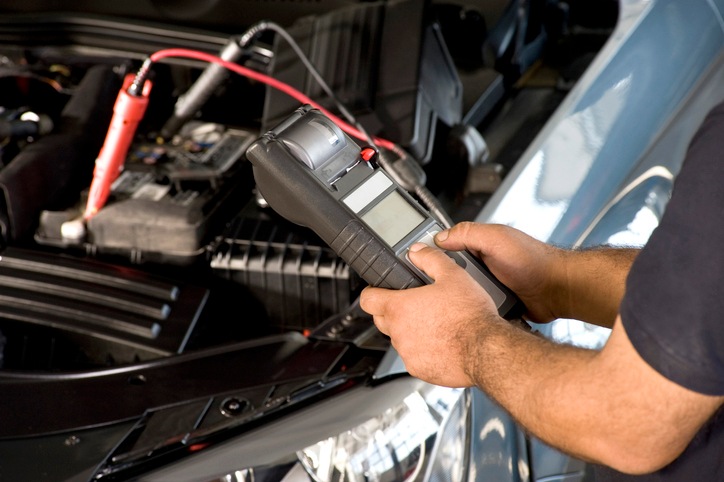 We conduct battery maintenance checks for your car at our shop. This includes visual inspections and a test. Visual inspection includes checking out the terminals, cables, and battery fluid. When you bring your vehicle to us for a routine oil change, we include this service. Otherwise, we recommend testing the battery every 5,000 miles. We use a load-testing device to check the voltage of your battery and the charging system. Different vehicles, makes, and models require different voltages, which we account for during our testing. We're equipped and experienced to handle all types of vehicles in our shop.
If you get in your car and the dome lights don't come on, and your engine refuses to start, chances are you have a dead battery. Your vehicle also may tell you with light indicators when your battery needs charging or has a problem. There can be a problem with the battery itself or the alternator. The alternator charges your battery while you drive. Remember, if your battery is dying, avoid using any electronics in your vehicle, such as radio, navigation, or charging your phone.
How Do I Know if My Battery Failed?
Your car's battery is one of the most affordable parts to service and replace. If you're experiencing electric issues in your car, it's a good idea to check that first before moving onto more labor-intensive and costly repairs and parts. The following are signs you should bring your vehicle into our shop for an inspection or replacement:
Stalling before the engine turns over when you start your car
Starter cranks but engine doesn't start
Starter doesn't make any noise
Key turned in the "on" position, but engine isn't running
Dome lights don't turn on
Electric accessories fail
You find yourself jumping your vehicle or having to charge your battery often
Charging system warning light illuminates
Battery Replacement
There aren't many things you can do to a battery to repair it. In almost every case, the easiest and most affordable option is to replace your battery. This is a relatively quick and painless procedure that can take less than an hour. We remove and recycle your old battery and install the new battery. We have a large stock of batteries available to choose from that will match your vehicle. If we don't have that particular battery, we can order one for you and have it delivered quickly to save you time. Contact us today to schedule your battery replacement in San Antonio, TX.
Get Your Free Inspection Today