Skip to Content
Advanced Diagnostic Services
Car Diagnostic Services in San Antonio
Diagnostic services are essential for the performance of your vehicle. You should always have your car checked out when the check engine light turns on, because doing so will help catch small problems before they become more expensive problems. Here at AAMCO of San Antonio North, we use the latest diagnostic computers to accurately pinpoint auto problems. Modern cars have onboard computers that are connected to sensors. The sensors monitor the various systems of your vehicle, like the transmission, alternator, cooling system, and more. When one of these systems fails or is in danger of failing, the sensors send the data to the computer. Car engine diagnostic services work by connecting the diagnostic computer to the vehicle computer in order to read sensor codes and find out what is causing the issue. It is the most accurate and efficient way to detect auto problems and correct them. The next time your check engine light turns on, bring your car to us!
Your Car Is In Professional Hands
When you bring your car to AAMCO of San Antonio North, you can rest easy knowing that not only will your auto issue be resolved, but that you will get a fair and honest price for the repairs. We believe in transparent pricing and professional service, because you depend on your vehicle. Take a look at what our diagnostic services can do for you: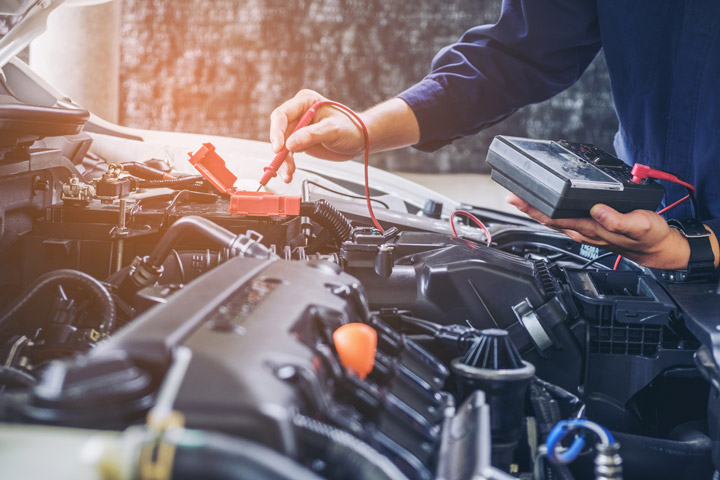 Detect Airflow Issues
Detect Transmission Issues
Correct Throttle Position
Monitor Manifold Air Pressure
Detect Suspension Issues
Adjust Idling Speed
Adjust Fuel Mixture
Adjust Spark Plug Timing
Our auto diagnostic services will help keep your car on the road. Using our advanced diagnostic computer, we can even help improve the performance of your vehicle, including improved fuel economy. The professional team here at AAMCO of San Antonio North will help improve the reliability of your vehicle, as well. Diagnostic checks are always more beneficial than disassembling components in order to find the issue. It is more accurate, and will not require the time it takes to track down the issue manually. We can even cross-reference the codes with similar vehicles to make sure we find the exact issue. Don't hesitate to bring your car into our shop!
A National Brand and Hometown Service
One of the things that sets us apart from other mechanic shops in San Antonio, TX, is that we have the support of a national brand. However, we are independently-owned, and we provide personable, friendly service to all our customers. While being part of the AAMCO brand allows us access to some of the most advanced diagnostic equipment in the country, we still provide hometown service. Our team is made up of factory-certified technicians and mechanics, and we place an emphasis on customer service.
Contact AAMCO of San Antonio North
We know that car problems can be very stressful, so we take the time to explain the issue in detail and the options that you have for repair. We also strive to offer affordable diagnostic and repair services. Schedule an appointment with us and  get your car troubles resolved today!
Get Your Free Inspection Today